it's tuesday, and after a 3.5 day weekend, it might as well be monday. tuesdays have a rough go, in my opinion. at least on wednesday, you're able to say "the week is halfway over". sometimes i just need a little pick-me up on the 2nd day of the workweek. this being said, i'd love it if you'd join me for my new series "take me there tuesday". every week, a new getaway - whether it's a vacay spot you frequent, a dream trip you'd like to take, or even a new restaurant you want to try. i want to hear about it! here we go!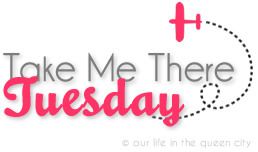 today my daydreaming mind takes me to destin, florida – my longtime favorite vacation spot! my family has been taking trips here since i was a toddler, and moving to the east coast (and the 12 hour drive) didn't change that one bit. about 4 out of 5 people i mention this to have been there as well! quite the popular venue! the white sand and clear gulf of mexico has always set a high standard when choosing a family vacation spot and brings us back year after year!
image via
our favorite area to stay in the past few years has been miramar beach. to avoid some of the more crowded beaches in the area, we usually rent a townhouse or a big condo (there are 7 of us) in a low-rise building. (fyi: we always use this site to find awesome rentals). a few of my favorite restaurants to visit are the red bar in grayton beach (their smoked tuna dip is a MUST), harbor docks in destin(great for sushi), acme oyster house in baytowne warf (probably twice a week), and kj's for late night fun (roshambo, the house band, is awesome)!
even as an adult, my family vacation is something that i look forward to all year (we go later in august to get lower rates and pray for no hurricanes). it's so nice to take time away from work and spend quality time with those you love the very most!
so, please tell me…
where is this tuesday taking you?